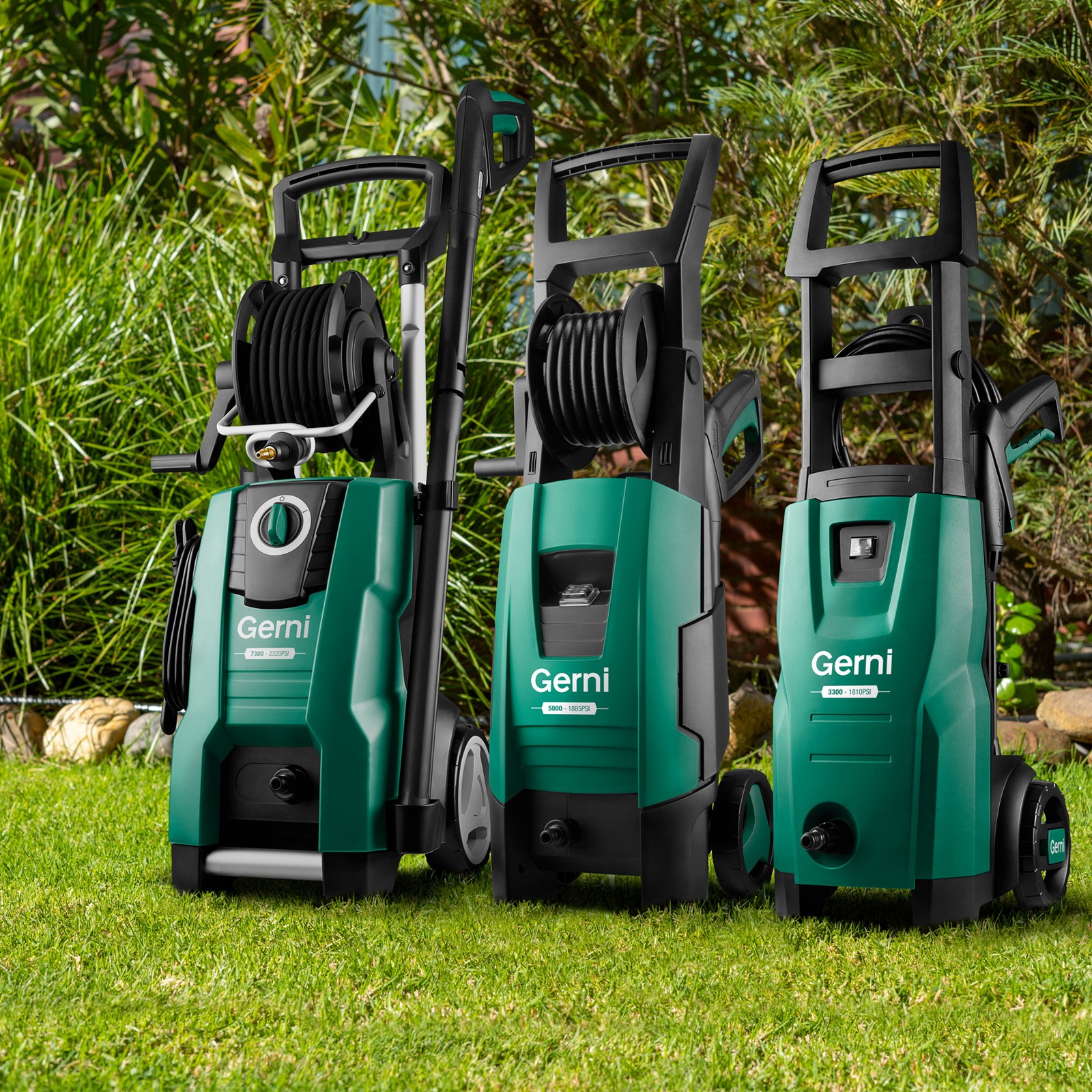 For over 50 years, Gerni has been a leading brand in developing high pressure washers for home DIY'ers.
Gerni remains a strong household brand name within Australia today. Whether you own a Gerni or another brand of pressure washer, they're often still referred to as a "Gerni". You may hear people say they will "Gerni" their driveway or "Gerni" their car, but unless it's green, it's not a REAL Gerni.
Gerni offers the same great quality, with a new look. Still offering built tough aluminium pumps for the durability & long-lasting use you would expect from your Gerni. With Gerni's new look, the machines are now broken up into 3 series based on output pressure (PSI). We begin with Gerni 3300 & Gerni 3600 which both offer a powerful 1810PSI motor making light work of all those small jobs around your home, we then jump up to our Gerni 5000 & Gerni 5300 which offer an even more powerful 1885PSI easily handling those medium size projects around your home & for all those larger projects around your home we offer our Gerni 7000 & Gerni 7300 which offer brushless motors & robust hose reels making it easier to store & look after your Gerni.
You'll find the full range of Gerni products and accessories available exclusively through all Bunnings Warehouse stores across Australia, with a wide range of pressure washers to suit your needs. Our patented G-connect system offers a huge range of added accessories for your Gerni whether it be a Power Patio Cleaner making light work of cleaning your driveway or a Rotary Detergent Brush keeping your car squeaky clean, by simply clicking or twisting on your accessories you'll have that job done it no time.
Here at Gerni we stand by our quality, offering a strong warranty on all our products, with the option to extend the warranty period for Gerni Pressure Washers via online registration. We offer on all Gerni Pressure Washers two different warranty lengths, 5 years* with all models under Gerni 5300 & 7 years* for all models up from & including the Gerni 5300. For more information on our warranty lengths & instructions on how to register click here.